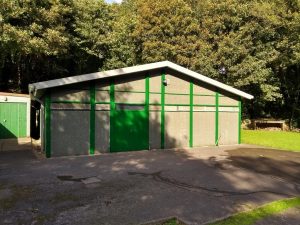 This is our scout hut on Foundry Lane, Halton. The current hut was built in the 1970's after a fire which totally destroyed the previous hut. For further history of Scouting at 1st Halton see "History". Where possible we will offer our hut out for hire, see below for more details of our hut and select "Hire" to contact us.
Inside the hut there is the main hall which has coloured dens for the lodges and sixes to use during activities, a large main store room for camping equipment, a general store for activity equipment such as craft, games etc., a leaders room for meetings, a large kitchen, toilets and cloakrooms and a utility store. We also have a garage at the side of the building and a large patch of lawn which is used for outside activities, games and for camping and pitching tents.
In June 2013, the hut was recently decorated inside by the leaders and parents and general hut maintenance was completed. There is still much more to do to inside the hut such as installing better more efficient lighting, installing plumbed hot water, repair of ceiling in a few places, and outside there is the painting of the woodwork. Fundraising is currently being done so we can fund these projects and improve the scout hut for all users. We hope you like it.
Here are some before and after shots of our Scout Hut.
Before and After: